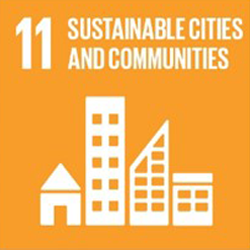 What is "Sustainable Cities and Communities"?
The world is becoming increasingly urbanized. Since 2007, more than half the world's population has been living in cities, and that share is projected to rise to 60 per cent by 2030. 
Cities and metropolitan areas are powerhouses of economic growth—contributing about 60 per cent of global GDP. However, they also account for about 70 per cent of global carbon emissions and over 60 per cent of resource use. 
Rapid urbanization is resulting in a growing number of slum dwellers, inadequate and overburdened infrastructure and services (such as waste collection and water and sanitation systems, roads and transport), worsening air pollution and unplanned urban sprawl. 
The impact of COVID-19 will be most devastating in poor and densely populated urban areas, especially for the one billion people living in informal settlements and slums worldwide, where overcrowding also makes it difficult to follow recommended measures such as social distancing and self-isolation. 
The UN food agency, FAO, warned that hunger and fatalities could rise significantly in urban areas, without measures to ensure that poor and vulnerable residents have access to food. Source
So The United Nations has 17 Sustainable Development Goals that call all countries to urgent cooperation for strategies to combat climate change, protect oceans and forests, as well as eradicate poverty and deprivation, improve health and education, reduce inequality, and support economic development. Yeditepe University has a Sustainable Cities and Communities Commission that aims to carry out studies for the Sustainable Development Goal 11. The Commission's Activity Procedure can be found here.
225
Courses Related to Sustainability
8000
Percent of Water Recycled
270245
Hectares of Forest within the Campus
219
Plant Species in the Campus